Directions via Public Transportation
BART Richmond Line:
Exit at Berkeley Station, located at the corner of Center Street and Shattuck Avenue. Walk one block east on Center Street to the campus, then turn right on Oxford Street until Bancroft Way. Turn left on Bancroft to Telegraph Avenue for Zellerbach Hall.
BART Concord Line:
Exit at Rockridge Station. Take a #51 AC Transit Bus north on College Avenue to the campus and exit at Bancroft Way and Telegraph Avenue for Zellerbach Hall.
HELPFUL TRANSPORTATION PHONE NUMBERS:
Travel Info
511 (can be dialed from any area code.)
www.511.org
AC Transit
510.839.2882
(24 hour recorded information)
www.actransit.org.
BART
510.465.BART
650.992.BART
415.989.BART
925.676.BART
www.bart.org (schedule your trip online!)
Directions via Car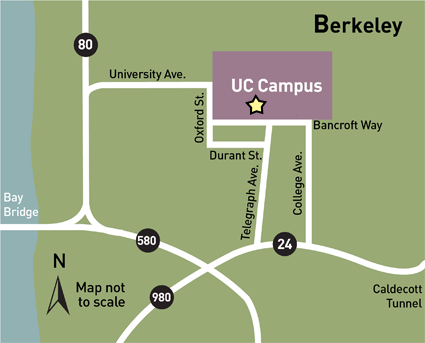 From Interstate 80 (San Francisco, Oakland, Marin):
Exit at University Avenue exit. Continue east on University Avenue approximately 1.5 miles to Oxford Street. Turn right on Oxford Street, pass Bancroft Way, and turn left on Durant Avenue. Turn left on Telegraph Avenue. Zellerbach Hall is a half-block on the right.
From Highway 24:
Exit at Telegraph Avenue exit. Turn right onto Telegraph Avenue and continue north approximately 2 miles to Bancroft Way. Turn left on Bancroft Way. Zellerbach Hall is a half-block on the right.
Parking
The public parking rate for UC Campus lots is $2/hour, $20 maximum valid until the lot closes. Most ticket dispensing machines are credit card ONLY. See below for a suggested list of university parking by distance.
There are a number of public parking lots and facilities near campus and in downtown Berkeley. This list includes municipal and privately owned parking lots and garages open to the public. Please consult signs for hours and fees prior to entering the facilities.
There is street and metered parking near the University, but be diligent about reading parking restrictions, as the regulations and schedules are strictly enforced by the City of Berkeley.
Nearby Campus Parking Lots
Lower Sproul Parking Garage

Directly adjacent to the Cesar Chavez Basement.
Less than a 5-minute walk around to the Basement entrance.

Dwinelle Lot

Public use and access Mon–Fri AFTER 5pm and weekends only.
About a 5-minute walk to the venue.

Recreational Sports Facility (RSF) Garage

About a 10-minute walk to the venue.